Centering ability and canal transportation of : ProTper,Mtwo,WaveOne,Reciproc in simulated curved canals (A comparative study)
Keywords:
Key words: Mtwo, ProTaper,WaveOne, Reciproc, single file technique
Abstract
Background: this study was conducted to compare the centering ability and canal
transportation of: Protaper, Mtwo, WaveOne, Reciproc in simulated curved
canals.
Materials and methods: Eighty simulated curved canals of 40° curvature were
divided into four groups and prepared to an apical size 25 using a crown-down
technique for ProTaper instruments and single length technique for Mtwo
instruments and single file technique for WaveOne and Reciproc instruments. The
following parameters were evaluated: outer and inner canal transportation and
the centering ability. The measurements were carried out at five different levels.
Pre-and postoperative images of the canals were taken at 40X magnification by
aid of stereomicroscope. An assessment of the canals shape was determined using
Photoshop CS2 and AutoCAD software. The data were analyzed statistically using
ANOVA and LSD test.
Results: Considering canal transportation, the direction of transportation of rotary
NiTi instruments was usually toward the inner aspect at middle parts of the canal
and toward the outer aspect of the curve at the apex of curve and the end of
preparation. Waveone and Reciproc files were showed a better maintaining its
original curvature with less straightening and transportation especially at the end
of preparation of simulated canals. WaveOne and Reciproc instruments obtained
better centering ability at all levels especially at the end point of preparation
comparing with Protaper and Mtwo instruments.
Conclusions: WaveOne and Reciproc instruments maintained the original curvature
significantly better than ProTaper and Mtwo.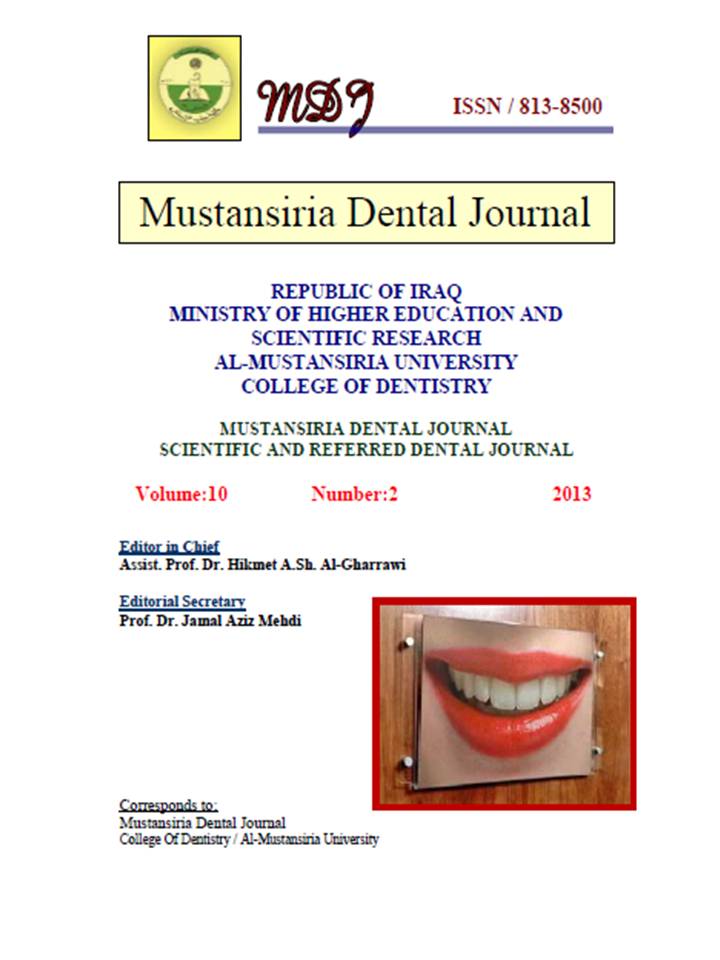 Downloads
How to Cite
Mahdi, D. J. A., & Maruish, D. R. M. (2018). Centering ability and canal transportation of : ProTper,Mtwo,WaveOne,Reciproc in simulated curved canals (A comparative study). Mustansiria Dental Journal, 10(2), 147–155. https://doi.org/10.32828/mdj.v10i2.205