A comparison of apical sealing and extrusion between Thermafil and Lateral condensation techniques
Keywords:
Key words: Thermafil technique, apical seal, apical extrusion, Protaper system.
Abstract
One hundred Thirty two canals from 66 mesial roots of extracted human
mandibular molars were instrumented with Protaper and K-file crown-down technique
and divided into two groups. The group I was obturated with Thermafil technique and
group II was obturated with lateral condensation technique. Topseal sealer was used
in both groups. Apical extrusion, apical microleakage, time for instrumentation and
time for obturation were recorded in each sub group. Six molars were used as control
teeth. All specimens were stored in 100% humidity for 1 week, coated with nail
polish, except for the apical 2mm, and were suspended in methylene blue dye for 72h.
Linear dye leakage was statistically different (ANOVA) test, while apical extrusion
between techniques was not statistically different (Chi-square test).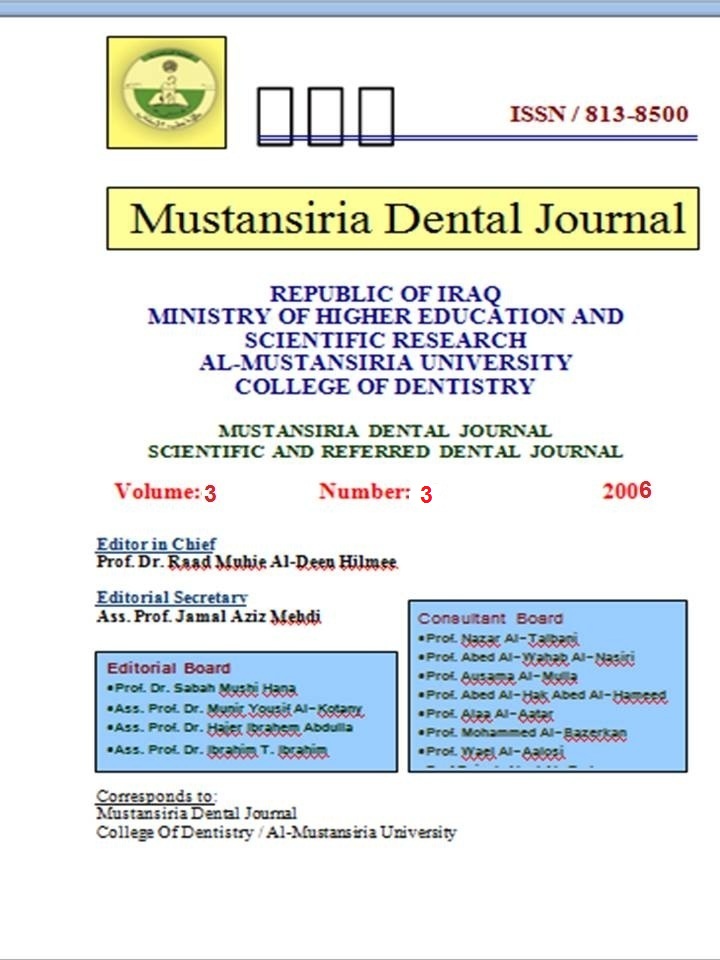 Downloads
How to Cite
Mahdi, D. J. A. (2018). A comparison of apical sealing and extrusion between Thermafil and Lateral condensation techniques. Mustansiria Dental Journal, 3(3), 216–223. https://doi.org/10.32828/mdj.v3i3.664