Apical microleakage evaluation of three different root canal Obturation techniques using dye penetration evaluation method
Keywords:
Keywords: Microleakage,apical seal, gutta percha, thermafil, soft core, system B.
Abstract
Background and objectives: The aim of root canal obturation in endodontic
treatment is to prevent communication between the oral cavity and periapical
tissues. Several techniques had been introduced to achieve complete filling of the
root canal system. It had been noted that more researches are needed to establish
standard techniques of root canal filling, and all the techniques should be
compared for filling root canals. The aim of this study was to compare the apical
sealing ability of three different obturation techniques.
Methods: Thirty single rooted teeth were collected and randomly divided into three
groups. There were 10 teeth in each group. The teeth were obturated by gutta
percha as follows: Groups 1 with Thermafil, Groups 2 with Soft core, and Groups
3 with System B. The apical leakage in these groups was evaluated using a dye
penetration method.
Results: The lowest mean rank of leakage was observed for system B and the highest
was observed for the thermafil groups. The difference between Thermafil, soft
core and system B was statistically not significant by using Kruskal Wallis test.
Conclusion: System B obturation technique show less microleakage than soft core
and thermafil techniques although the differences was not significant.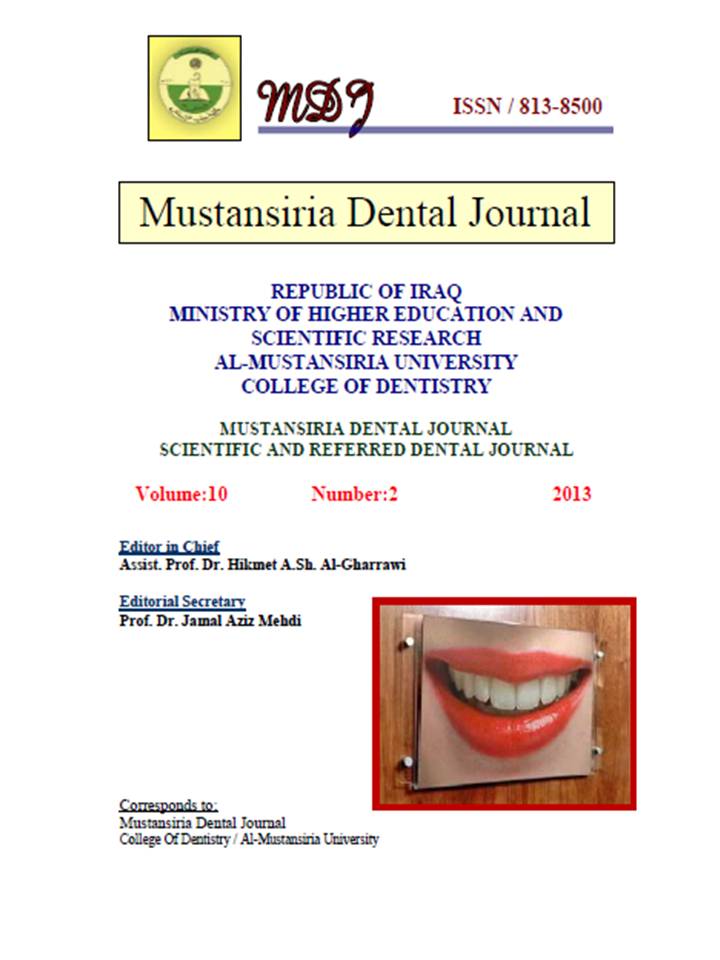 Downloads
How to Cite
Saeed, D. D. H. (2018). Apical microleakage evaluation of three different root canal Obturation techniques using dye penetration evaluation method. Mustansiria Dental Journal, 10(2), 176–183. https://doi.org/10.32828/mdj.v10i2.209