The reliability of Rickett's analysis using cephalometric tracing on Iraqi sample aged 8-10 year
Keywords:
key wards: Cephalometric X-rays , cephalometric tracing, Rickett's analysis, points, planes, angles.
Abstract
Cephalometric radiographs were taken for (48) subjects with class I occlusion ;
(25) females and (23) males , which selected on the standarization of the radiographs.
Sample ages range 8-10 years . cephlometric tracing are carried out using the same
points, lines, angles and axis of Rickett's analysis.
On comparing the results of this research which is carried out on Iraqi sample
with Rickett's analysis on Caucasian people of the same age appears that there are
differences in most of these measurements and this due to racial factors and ethnic
variations which play a great role in differences between each ethnic group .
The results of Iraqi measurements (mean values ) as fallows:-
facial axis (Y-axis) =91.3°; facial depth angle =81.2° ; Frankfort-mandibular plane
angle=30°; convexity of point A (mm)=2.7mm; lower incisor to A-pog =1.8mm;angle
=26.1° and finally ANS-Xi-Pm angle (lower facial height) = 45.8°.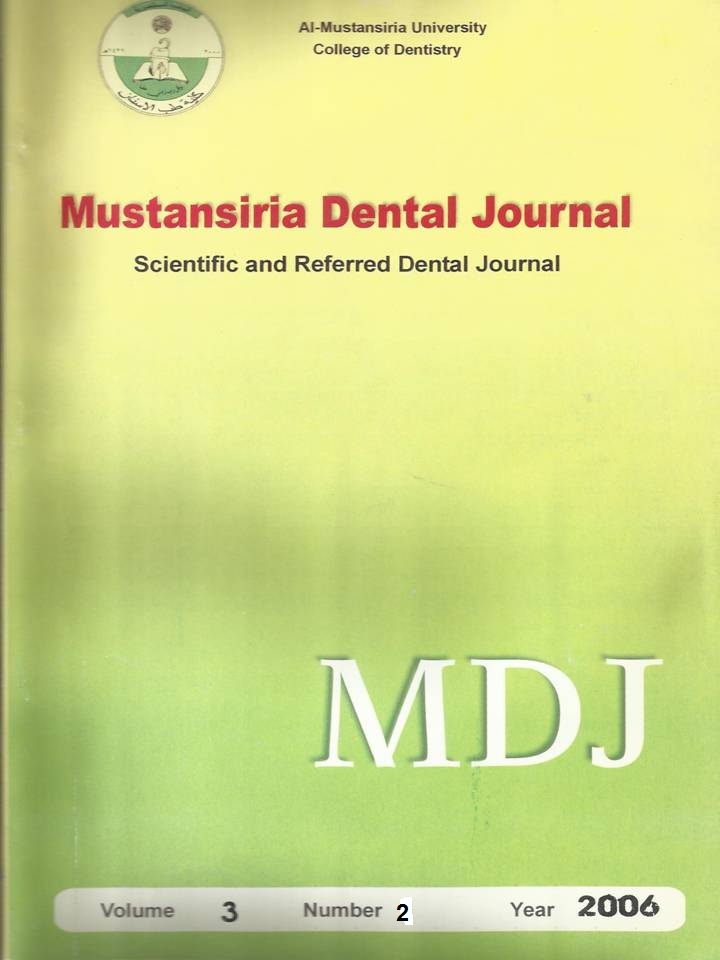 Downloads
How to Cite
Al-Tamimy, E. .A. (2018). The reliability of Rickett's analysis using cephalometric tracing on Iraqi sample aged 8-10 year. Mustansiria Dental Journal, 3(2), 159–168. https://doi.org/10.32828/mdj.v3i2.629