Evaluation of the cytological changes of oral mucosal cells in Smokers by using Exfoliative Pap Stain.
Keywords:
Key words: oral cancer, exfoliative cytology, papanicolaou's, smoking
Abstract
Oral cancer is a major public health issue worldwide; it remains a highly lethal and
disfiguring disease. in Iraq little is written regarding the occurrence of oral cancer.
The aim of this study is To examine the effect of smoking oral mucosa cytological.
Hundred men aged between 40 and 70, comprising 50 smokers and 50 non smokers.
Material for exfoliative cytology was collected with a metal spatula from the
lateral border of the patient's tongue and from the floor of the mouth and the samples
were then submitted for Papanicolaou staining. Then cytologic smears were classified
according to Papanicolaou's classification. the results of the current study reveals that
there is a significant association between smoking (number of cigarette smoked per
day and the duration of smoking (year) and the occurrence of cytological changes in
the oral mucosa ,p <0.001.and there is a significant association between the age and
the papanicolaou's classes ,p<0.001.
.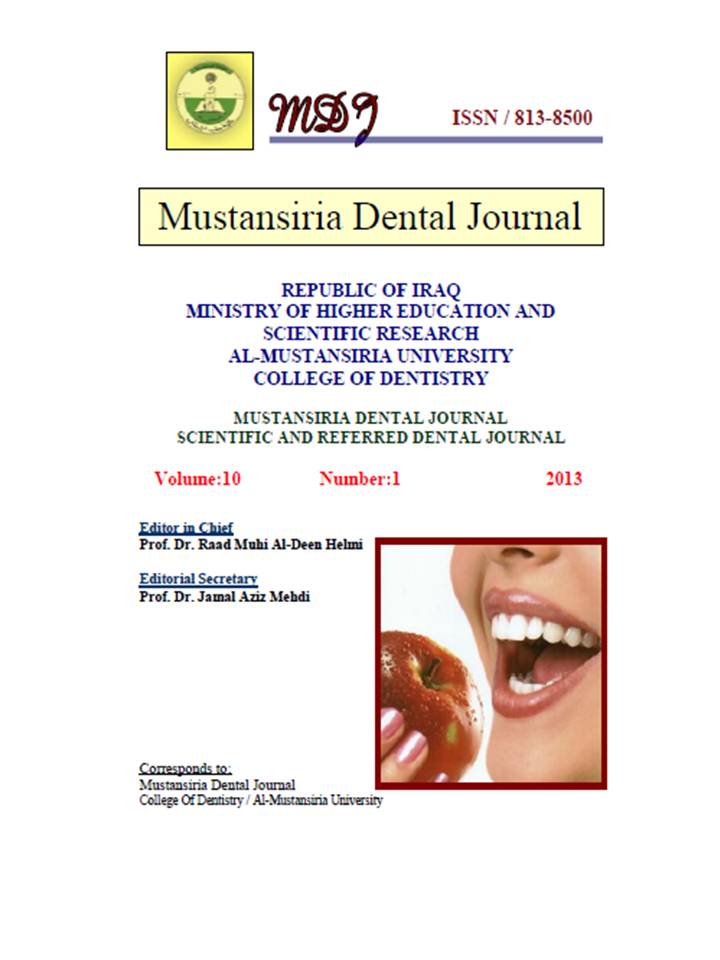 Downloads
How to Cite
Al Bahrani, D. J. (2018). Evaluation of the cytological changes of oral mucosal cells in Smokers by using Exfoliative Pap Stain. Mustansiria Dental Journal, 10(1), 124–129. https://doi.org/10.32828/mdj.v10i1.201