The effect of oral contraceptive on the oral health with the evaluation of Salivary IgA and Streptococcus Mutans in some Iraqi women
Keywords:
Key words: Oral contraceptives, Gingivitis, Secretary Immunoglobulin A (sIgA), Dental caries
Abstract
Aim: To assess if there is any effect of using oral contraceptive and the duration of
using on the inflammatory responses of the gingival tissues , concentration of
secretary immunoglobulin A ( IgA) and the colony count of mutans
StreptococcusMS in saliva .
Methods: This study includes 80 women in their reproductive age (16-40) year. 40
women who were using oral contraceptive in different duration, as the study group
and 40 women who not used oral contraceptive and it were assigned to the control
group. Both groups were clinically examined (for dental caries using DMFS
Index, and gingival condition using gingival index GI of Loe&Silness ) and
laboratory assessment (by using non stimulated saliva for each woman was
collected and homogenized then Mutans Streptococci (MS) were counted
,isolated, purified and diagnosed according to morphological characteristic and
biochemical tests also, the Salivary IgA concentration was measured by using
single radial immune diffusion method in different duration of oral contraceptive
using ).
Results: Gingival index was significantly higher among oral contraceptive users than
non-users (P<0.01), which was correlated with the duration of usage (r
=0.50).sIgA concentration higher in study group than in control group (P<0.01)
which also increased positively with duration of using(r=0.80). A positive
correlation between sIgA and gingivitis (r=0.54) was found. DMFS Index and the
number of MS colony were highly significant in study group than the control
(P<0.01). MS colony count was positive correlated with duration of usage
(r=0.88) but the DMFS had too weak correlation with the duration of using which
was a non significant at (P>0.05).
Conclusion: The use of contraceptive pills for a long period increases the likelihood
of gingival inflammation and significantly associated with increase sIgA level, so
the regular use of oral contraceptive seems to enhance mucosal immune function
in study subjects.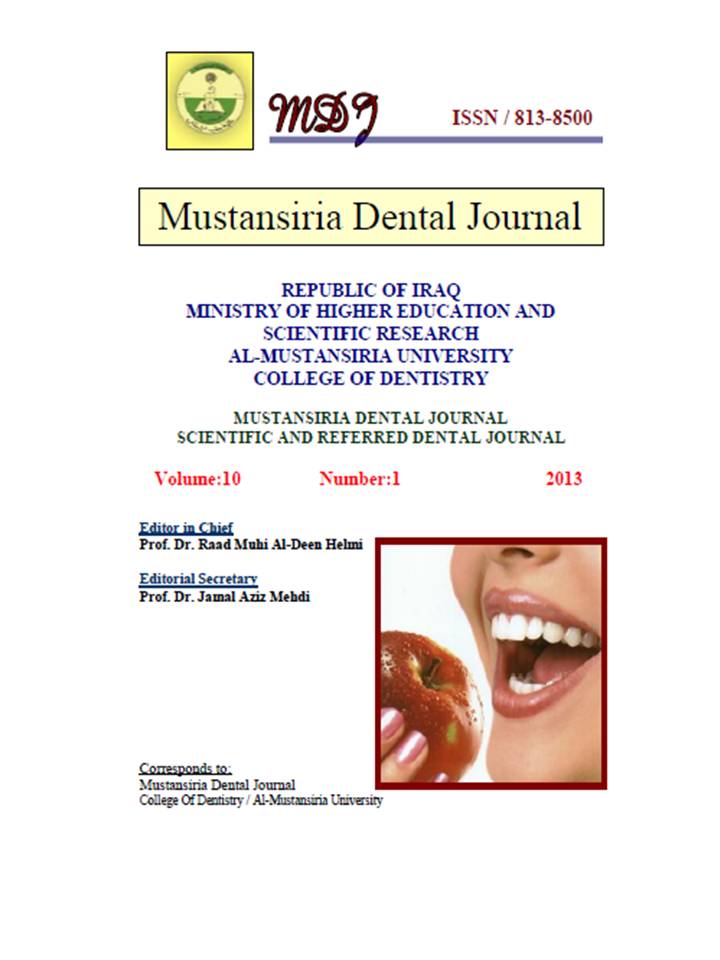 Downloads
How to Cite
Abd-Ali, D. E. H., & Shaker, D. N. T. (2018). The effect of oral contraceptive on the oral health with the evaluation of Salivary IgA and Streptococcus Mutans in some Iraqi women. Mustansiria Dental Journal, 10(1), 52–63. https://doi.org/10.32828/mdj.v10i1.184