CRESTAL BONE LOSS AROUND DENTAL IMPLANT "COMPUTERIZED ANALYSIS
Keywords:
Key words: - Dental implant, bone level crestal bone.
Abstract
The present study evaluates crestal bone loss around dental implants
(retrospectively and prospectively) and determines the prognosis of dental implant
through bone level estimation. Bone level was measured around 354 implants in 88
patients retrospectively and 97 implants in 31 patients prospectively, digital
panoramic radiograph were taken during recall appointments, and analysis with a
computer software associated method to measure the actual bone loss in mesial and
distal side of the implant during these periods.
Over all, the studied implants, experienced most of its crestal bone loss during the
preloading period, followed by dramatic decrease in bone loss rate through the
subsequent study intervals. The result of the present study showed that there is
significant positive correlation between crestal bone loss and age, female showed
significantly higher amount of bone loss than male in stage-1, while the apposite
figure found in stage-2. Data analysis during preloading time indicates significant
bone loss with implant location, while highly significant bone loss had been detected
with maxillary arch, fine trabecular bone density, immediate implant, complete
edentulous cases, While implant length, implant diameter and implant stability had a
non significant effects on crestal bone loss.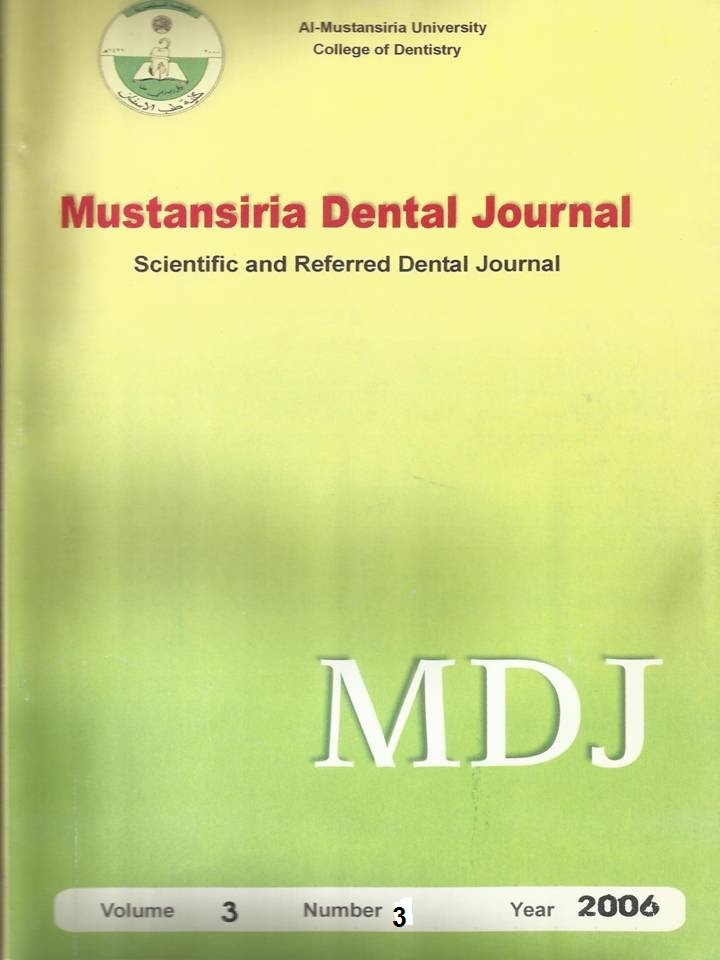 Downloads
How to Cite
Igzeer, P. D. K. Y., & Diab, D. A. S. (2018). CRESTAL BONE LOSS AROUND DENTAL IMPLANT "COMPUTERIZED ANALYSIS. Mustansiria Dental Journal, 3(3), 244–254. https://doi.org/10.32828/mdj.v3i3.640