The Effect of Disinfectant on the Microstructure of Dental Stone at Different Time Intervals
Keywords:
Key words: Dental stone, Disinfectants, Microstructure.
Abstract
Gypsum products have been considered to be among the most widely used model and die materials. Modifications of these materials by adding chemicals or salts result in a change in their structure. This study was designed to evaluate the effect of the addition of Calcium Hypochlorite disinfectant on the microstructure of dental stone.
Calcium Hypochlorite disinfectant in aqueous solution in different concentrations (0.5, 1.0, 1.5 and 2.0%) was added to type III dental stone. The microstructure of the dental stone samples was examined under the microscope and then photo scoped, pictures were taken at different time intervals (immediately, after 10, 30 min., 1and 2 hours) for all the test groups.
The results of this study showed that at different time intervals, from the beginning of mixing of dental stone with Calcium Hypochlorite disinfectant solution, deformation in the microstructure was produced (calcium sulfate dihydrate crystals).
Microscopically appearance of dental stone samples mixed with Calcium Hypochlorite disinfectant solution revealed a deformation in size and shape of the calcium sulfate dihydrate crystals when compared with the control group.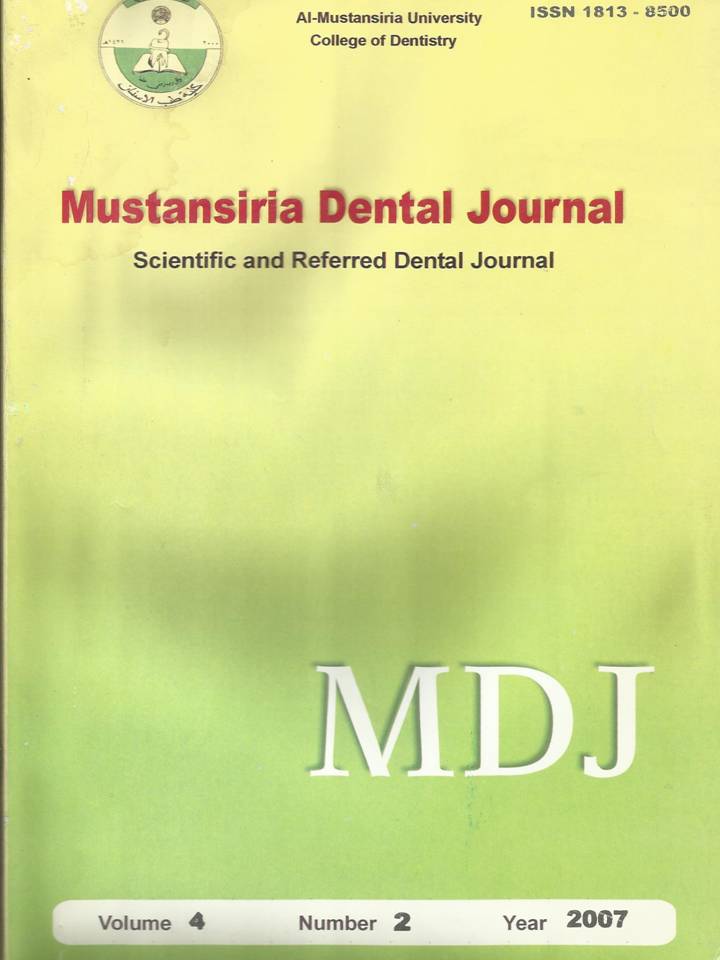 Downloads
How to Cite
Abass, D. S. M. (2018). The Effect of Disinfectant on the Microstructure of Dental Stone at Different Time Intervals. Mustansiria Dental Journal, 4(2), 199–205. https://doi.org/10.32828/mdj.v4i2.605