A comparative Study to Evaluate the Effect of Sodium hypochlorite Temperature on Cyclic Fatigue Resistance of Three Types of Rotary Instrument
Abstract
Background: The fracture of instruments within root canal during endodontic
treatment is a common incidence, fracture of fatigue through flexure occurs
because of metal fatigue, NaOCl used for irrigation may have an effect on
corrosion that decrease fracture resistance. This study aimed to assess the effect of
NaOCl temperature on the cyclic fatigue of different type of Endodontic NiTi
Rotary Instruments and compare among them.
Materials and method: three types of rotary instruments with tip size 0.25: ProTaPer
F2 (Densply,Malifier) Revo-S SU ( 0.06 taper, MicroMega) and RaCe system
(0.06 taper, FKG,Dentaire), Thirty file of each instrument type were used within
canal with 60° angle of curvature , undiluted NaOCl (5.25% ) were used. Ten file
without immersion in NaOCl, ten were immersed at room temperature (21°C) for
5 minute and ten with immersion in NaOCl at 60°C for the same time. Nine group
were formed for all instruments (total number=90). The testing canal customized
within stainless steel block covered with glass face, the time to fracture recorded
and the mean of cycles to fracture (MCF) detected for each instrument .Data were
analyzed statistically by ANOVA, LSD and Independent T-test at 5% significant
level.
Result: there was a highly significant difference in mean of cycles to fracture for each
rotary instrument when temperature of NaOCl increased that the Number of cycles
to fracture decreased as the temperature increased. RaCe revealed the best fracture
resistance followed by ProTaper then Revo-s that showed the less resistance.
Conclusion: the rotary instruments more prone to fracture when temperature of
NaOCl increased, as well as the rotary instruments differ from each other
according to manufacturing process, taper, cross section and other factors.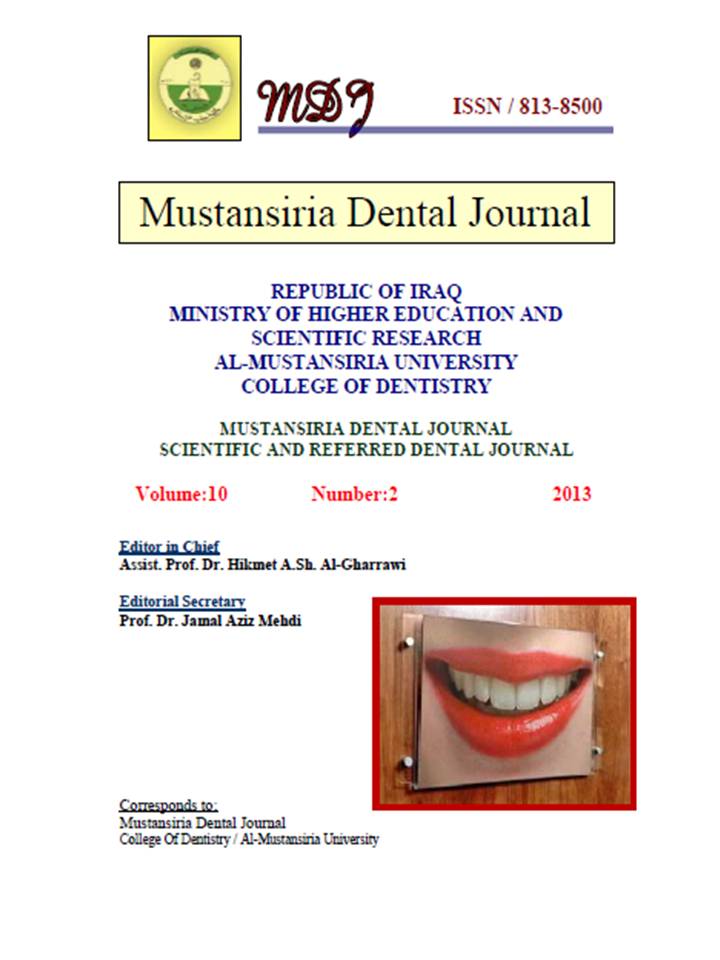 Downloads
How to Cite
Al_Azzawi, P. D. A.- karim J., & Mahmood, D. A. M. (2018). A comparative Study to Evaluate the Effect of Sodium hypochlorite Temperature on Cyclic Fatigue Resistance of Three Types of Rotary Instrument. Mustansiria Dental Journal, 10(2), 193–199. https://doi.org/10.32828/mdj.v10i2.217