Influence of age and gender on salivary flow rate in completely edentulous patients
Keywords:
Key word: Complete denture, edentulous, salivary flow.
Abstract
The denture retention and stability are dependent on saliva flow rate and quality,
patients with dry mouth may have problems with the stability or comfort of maxillary
complete dentures.
Dry mouth is a common feature in the elderly, but is not clear what proportion of
incidences is related to functional disturbances and whether age persue and Gender
play a role. The aim of this study is to determine the effect of age on unstimulated
(Resting) whole and stimulated saliva flow rates. It was determined in 100
unmedicated, healthy individuals wearing complete dentures. The subjects were
divided into two age groups: group A(< 70 years), group B(> 70 years). A significant
decrease in the secretion rates of unstimulated whole saliva in relation to age was
observed in the study population (p< 0.001).
Females had significantly lower mean flow rates than males for unstimulated
(resting) whole saliva.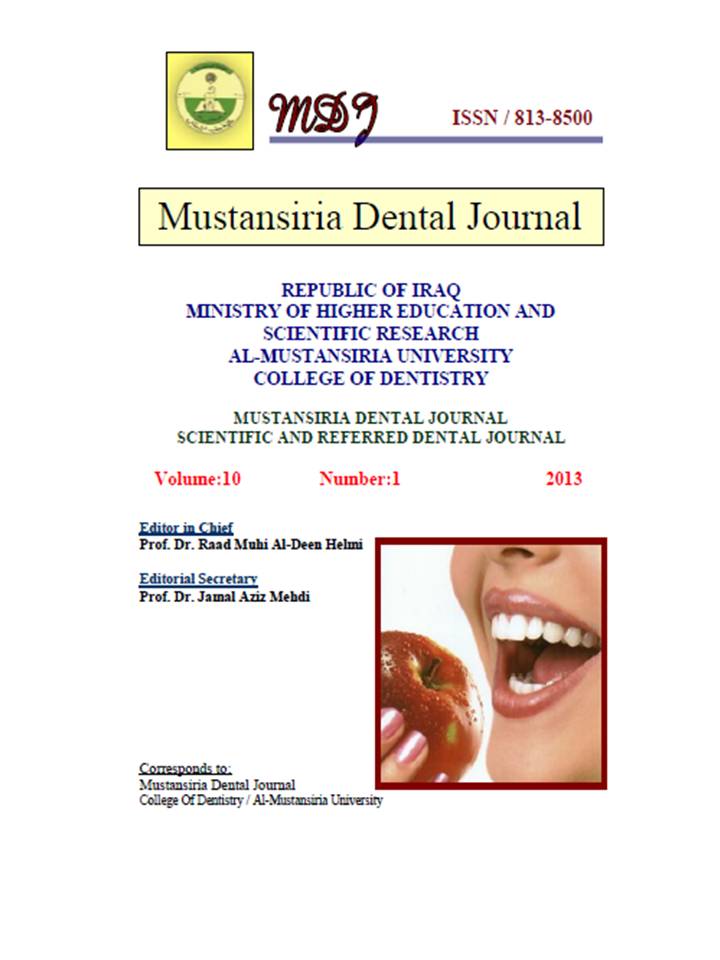 Downloads
How to Cite
Al-Azzawi, D. S. I., Alwan, D. A. M., & Salal, D. R. H. (2018). Influence of age and gender on salivary flow rate in completely edentulous patients. Mustansiria Dental Journal, 10(1), 64–68. https://doi.org/10.32828/mdj.v10i1.185